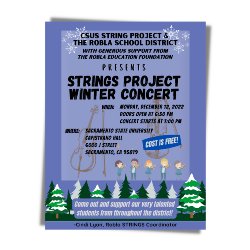 What

String Project Free Winter Concert

When

12/12/2022, 6:30 PM

–

8:30 PM

Where

Sacramento State University-Capistrano Hall, 6000 J Street, Sacramento
On Monday, December 12th, come and enjoy a FREE Winter Concert performed by our students participating in the STRING Project! The concert will be held in Capistrano Hall at CSU Sacramento (6000 J. Street, Sacramento). Doors open at 6:30 p.m. and the concert begins at 7 p.m.