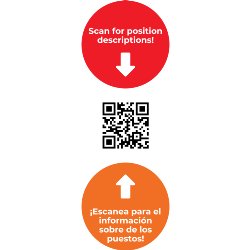 What

Robla School District Job Fair

When

8/20/2022, 9:00 AM

–

12:00 PM

Where

Taylor Street School-Multipurpose Room
Have you ever wanted to work in the Robla School District? Here's your chance! We are having a Job Fair on Saturday, August 20th from 9 a.m.-12 p.m. at Taylor Street Elementary School (Multipurpose Room).

Steps to Your Job Fair Success:
* Scan the QR code or visit bit.ly/WorkinRobla to view position descriptions and salary information, and if you're ready to, you can also apply!
* Come to the job fair!
* Bring your valid photo ID and a resume or work history
information to complete an employment application.
* We will have on-the-spot interviews and opportunities to meet
district staff and supervisors.
* Position offers are provisional, pending candidate's successful
completion of background check, pre-employment testing
and/or training.
* Activities will be available for children.

We are hiring for the following positions*:
Bus Drivers, Custodians, Gardeners, Instructional Assistants, Intervention Assistants, Substitute Food Service Assistants, Substitute Custodians, Yard Duty personnel. Sacramento START will also be on site to hire for after school positions.
*Most positions require a high school diploma or equivalent.


Come for the meaningful work. Stay for the sense of purpose.

¿Has querido trabajar en el Distrito Escolar de Robla? ¡Aquí está su oportunidad! Estamos organizando una Feria Empleo en Sabado, 20 de Agosto de 9 a.m. al 12 p.m. a la Escuela Primaria de Taylor Street (Sala multipropósito).

Las Medidas para el Éxito de Su Feria de Empleo:
* ¡Escanea el código QR o visita al bit.ly/WorkinRobla para ver las descripciones de los puestos y la información del sueldo, y si estuvieres listo, podrías aplicar!
* ¡Ven a La Feria de Empleo!
* Bring your valid photo ID and a resume or work history
information to complete an employment application.
* Tendremos entrevistas en el sitio y opurtunidades para
reunirse con el personal y los supervisores del distrito.
* Todas de las ofertas de los puestos estarán provisionales pendiente la finalización exitoso de un verificación de antecedentes, pruebas previas al empleo, y/o la formación.
* Los actividades estarán disponibles para los niños.

Estamos contratando para los puestos siguientes:*
Los Conductores de Autobús, Los Conserjes, Jardineros, Los Asistentes de Instrucción, Los Asistentes de Intervención, Los Asistentes de Servicio de Alimentario, Los Conserjes Sustitutos, y El Personal de Servicio del Patio. Sacramento START también estará en el sitio, contrando para el puesto sobre del cuidado después de la escuela.

*La mayoría de los puestos requieren un diploma de la escuela secundaria o el equivalente.

Ven por el trabajo significativo. Quédate por el sentido de propósito.